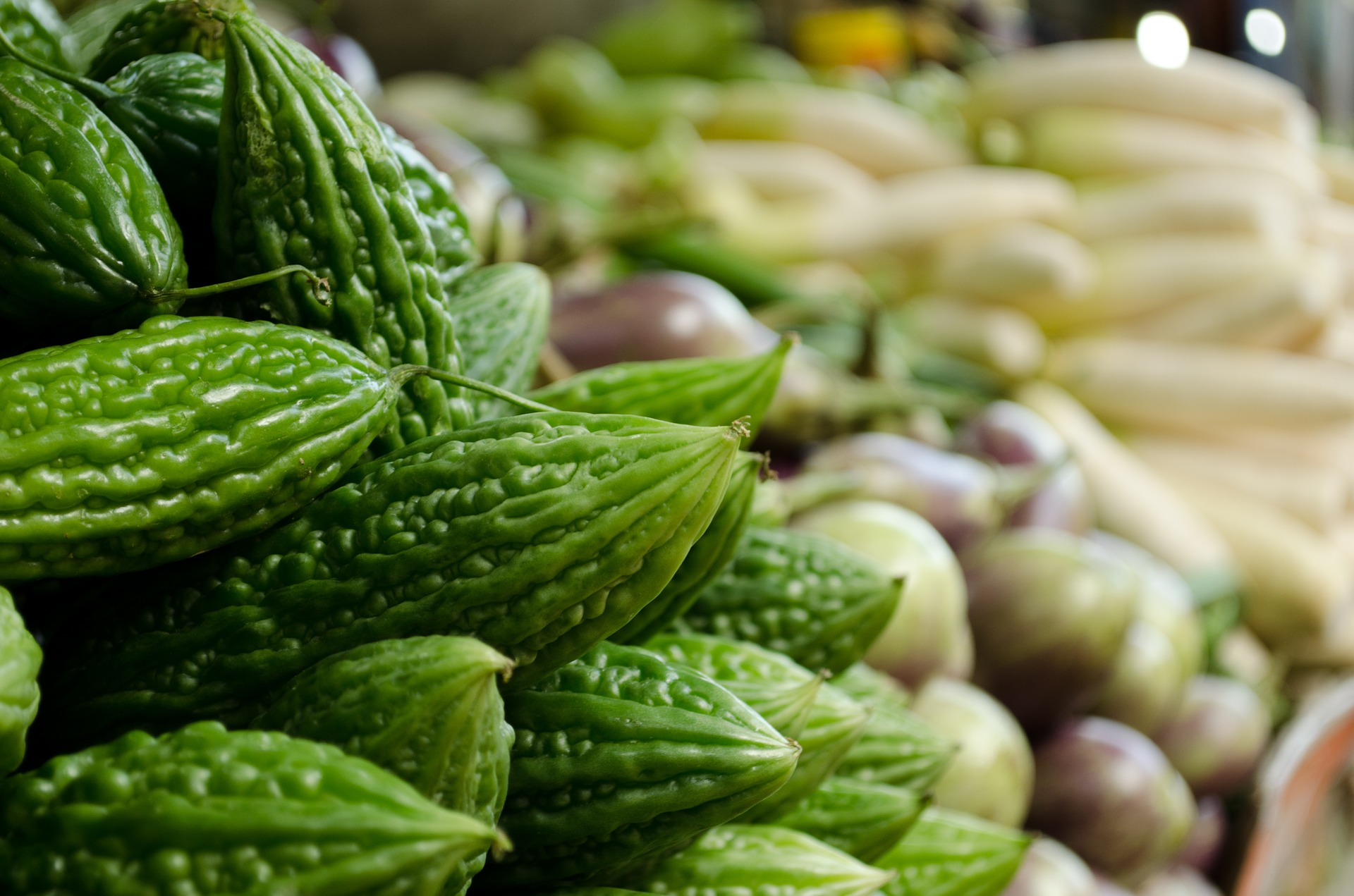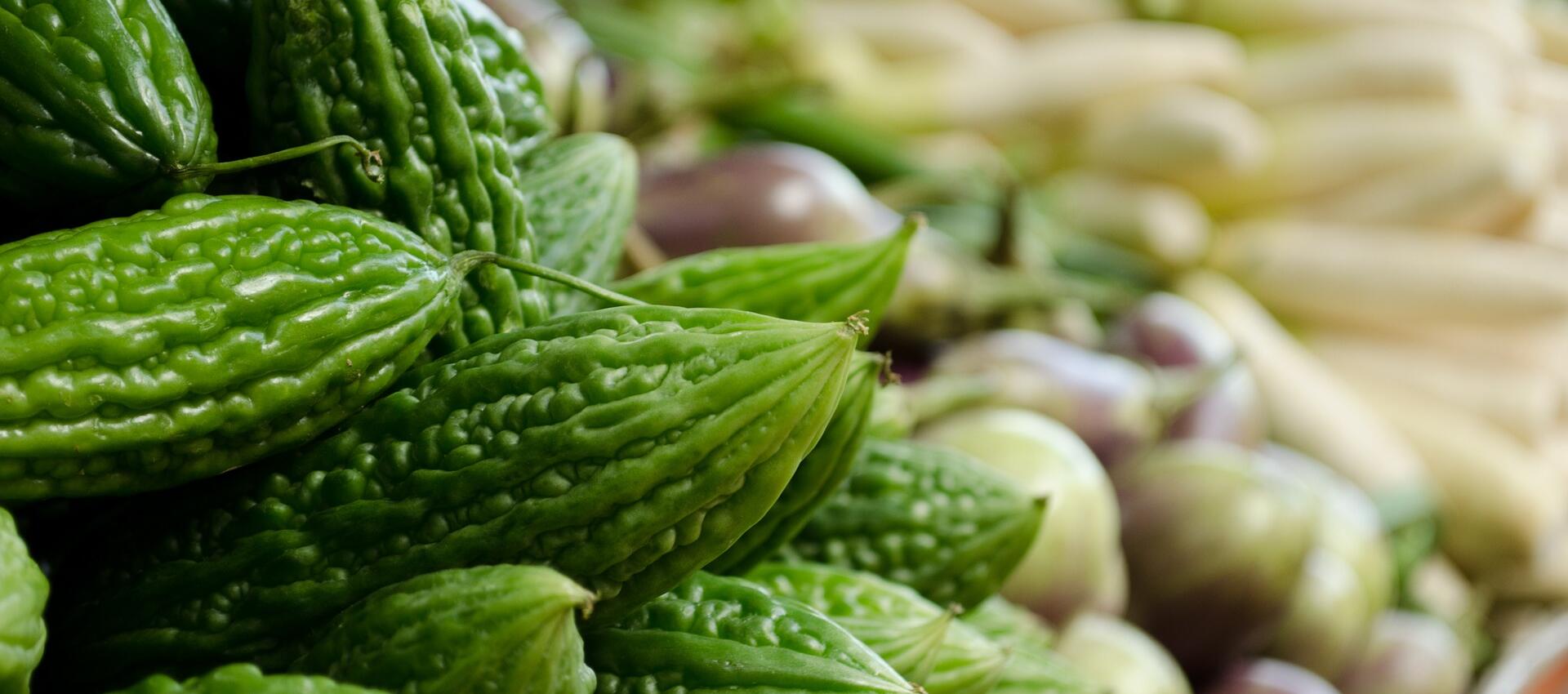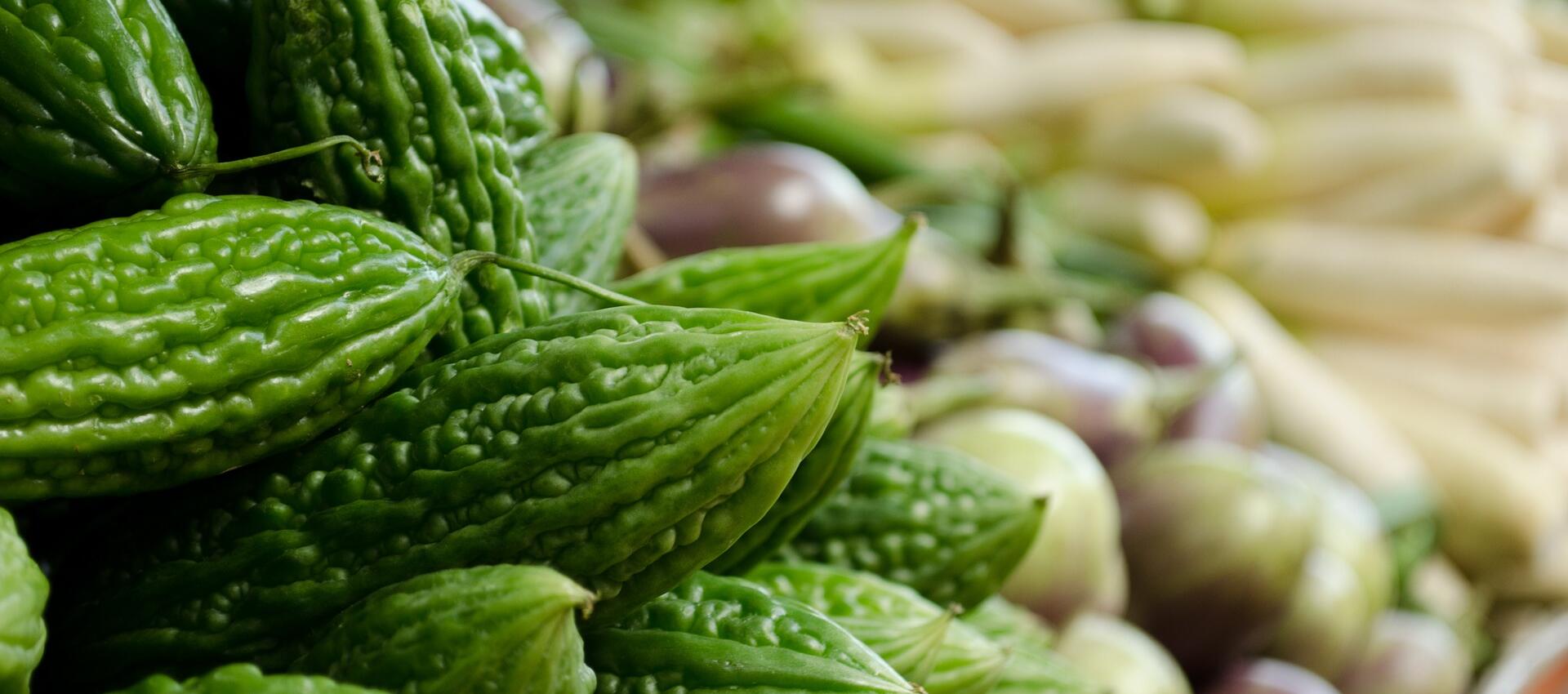 Stuffed Karela – Bitter Melon Gourd
Mains, Sides and Salads, Starters, Vegan, Vegetarian
July 26, 2020
As kids we used to call this knobbly bright green vegetable crocodile sabji due to its appearance! It goes under several names; bitter gourd, bitter melon, karela balsam apple, margose and bitter cucumber. Whatever you chose to call it; it is an acquired taste!  However cooked just right to get rid of the bitterness makes this a wonderful tasty dish.
Karela is renowned for the amazing health benefits, it's used in ayurvedic medicine, it's great as a herbal remedy for lowering sugar levels, an excellent source of vitamins B1, B2, and B3 and rich in iron.
Prep: 20 mins
Cook: 30 mins
Ingredients
1 tbsp amchoor - dried mango powder
3 tbsp oil for cooking the stuffing
2 medium onions finely slliced
3 tbsp oil for frying the karela
Directions
1Scrape the outer skin with a peeler or the back of a teaspoon. With a clean tea towel pat dry the bitter melons. Cut a slit lengthways, remove and discard the seeds. (TOP TIP: If this is the first time eating this dish; a top tip to reduce the pungency, at this stage is to rub salt in and outside of the bitter gourd, leave for 20 minutes before washing in cold water – squeeze the juice pat dry and stuff).
The Masala Stuffing
1To make the masala stuffing tip all the dry ingredients into a bowl and mix well. Set aside. In a frying pan heat the oil until it is medium to hot. Add the onion and coat the onions with the oil. Spread the onions out evenly, cook, stirring occasional. After 5 minutes reduce the heat to medium low and cook for 10-15 minutes or until the onions are golden brown. To the onions, add the masala mix. Mix and cook for 5 minutes. Let it cool.
Cooking the Karela
1Divide the mixture into 8. Stuff cooked masala into each karela. To hold the filling in, wind twine or cotton thread around the melon. To cook the stuffed bitter gourd, heat 3 tablespoons of oil in a frying pan. Carefully place the veg in a single layer. Cook and keep turning until they brown on all sides. Keep the flame low to medium. This will take about 5-6 mins. Don't forget to remove the twine/thread before serving.
2Serve hot with buttered chapattis, curry and yogurt. Leftover cooked masala stuffing can be served hot alongside the karela.
Kerela can be made into a curry, stir fried or stuffed. Here we've gone for our fave; slitting, stuffing and shallow frying the kerela.
The use of amchoor, dry mango powder adds a lovely citrus tanginess and balances out the bitterness.  Th mango powder can be replaced with lemon juice.

0 Reviews