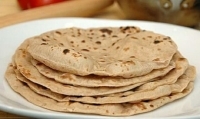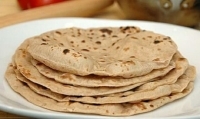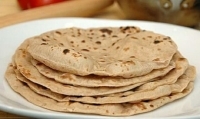 Our daily bread Chapattis – Indian Flatbread
March 2, 2016
Our policy is KISS – to keep it Simple Sister! That has been our guiding principal from day one. With this in mind – one of the dishes we shared at the Homes Gardens and Lifestyle Show in Spain was how make chapattis from scratch. We wanted to show how quick, easy and simple you can produce homemade fresh Indian flatbread: and that you don't need any fancy pants equipment; just a flat bottomed frying pan and a rolling pin!
Also known as roti, chapatti and phulka: Indian flatbreads are eaten daily by millions around the world. Making chapattis is the easiest and quickest way to make bread. They go well with any curry you choose to cook up.
FLOUR: Chapattis are usually made from soft whole wheat flour – known as chapatti flour. Widely available in the UK. However, in Spain we've found that Harina de Integral works just as well. It's available from most supermarkets including Mercadona.
North Indian chapattis are traditionally made with water and flour, but if you prefer a softer chapatti then milk or yoghurt can be used, just use less water. The amount of water used when making the dough will depend on the type of flour used, the humidity, absorbency and age of the flour – you might find you don't use all of the water in the recipe or may need extra.
Prep: 10 mins
Cook: 15 mins
Yields: 8
Directions
1In a mixing bowl place the flour and add half of the water. Using your fingers knead into a dough; add more water when needed until it becomes flexible enough to roll. Knead to form smooth, medium-soft dough.
2Cover and leave to rest at room temperature for 5-10 minutes.
3Divide the dough into 8 equal parts. Roll between your palms, until the balls are smooth and without cracks. Apply gentle pressure to flatten. To stop the dough from sticking, lightly coat each ball with dry flour.
4Roll into a circle. If it starts to stick, gently lift the chapatti up and dust both sides with more dry flour. Keep rolling until the disc is 7 to 8 inches in diameter.
5Heat a flat bottomed pan to a medium to hot heat. Flip the chapatti from one hand to the other to dust off the excess flour.
6Place it on the hot pan. Let it cook for around 10-15 seconds or until the colour changes to a darker brown. Use a fish slice (or your fingers - Indian style!) to flip over the chapatti. Cook until small brown bubbles begin to form in the chapatti for about one minute.
7Turn the chapatti over and finish cooking for another minute. Use a folded clean tea towel or kitchen towel to gently press the chapatti around its edges. This will make it balloon out.
8Once it balloons remove the chapatti and brush with butter. Store in a clean tea towel and continue cooking the rest. Cooked chapattis can be stacked and wrapped in a clean tea towel.
2 Reviews