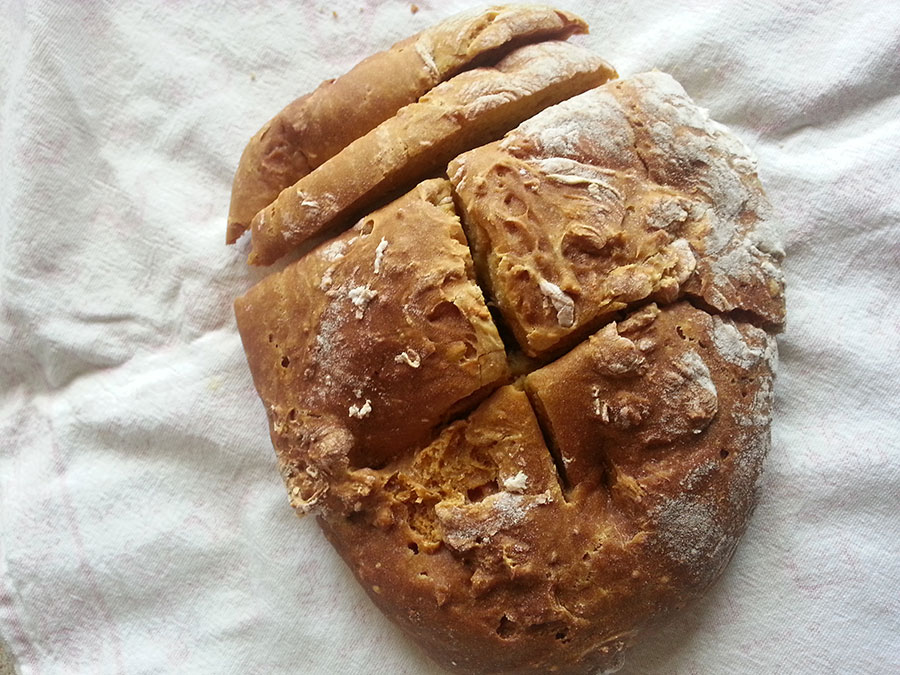 Caraway Soda Bread
There's nothing like home made soda bread a stable of St Patrick's Day, but this soft textured, cake like bread is great any day of the week!  Traditionally soda bread is made with four basic ingredients, flour, buttermilk, salt and baking soda. Plain flour is used in this yeast free bread; and is leavened with a mix of bicarbonate of soda and lactic acid, in the form of buttermilk or yoghurt.
Soda bread is really easy to make – the trick is not to over work the dough, the complete opposite of making ordinary bread using yeast.
In this recipe we've added some caraway seeds which work well. The caraway seeds add a warm mild anise-flavour. Instead of buttermilk we've combined yoghurt and milk to get the same result
Prep time: 5-10 mins
Cook time: 30 mins
Ingredients
450g Plain flour
1 tsp Bicarbonate soda
1 tsp Salt
1 tsp Caster sugar
1 tsp Caraway seeds
250ml Natural yogurt
150ml Milk
Method
Preheat oven to 220C Gas mark 7
Grease a baking tray or line with baking parchment.
In a large mixing bowl, sift the flour, bicarbonate of soda, salt and sugar. Add the mixed spice and caraway seeds, mix well.
Blend the yoghurt and milk together. Add to the flour mixture. Use a wooden spoon bring the mixture together. If needed add a splash of milk to make the dough soft but not sticky. As the bicarbonate of soda is mixed in with the liquid it begins to react, it's important at this stage to work quickly into getting the dough into the hot oven ASAP.
Flour your hands – gather the dough together and shape into a ball around 20 cms -21 cms across.
Place on the baking tray with a sharp knife cut a deep cross on the loaf
Bake for 30 mins to check if it's done tap the bottom – a hollow sound means it's done.
Serve warm with lashings of salted butter.