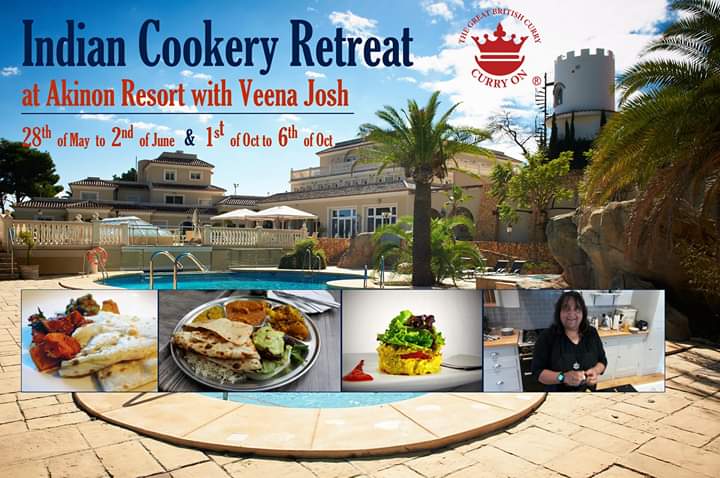 Master the art of Indian cookery in Spain. Learn how to blend and cook with spices, create modern and classical curries, chutneys, snacks, starters and street food; learn the secrets of making perfect Indian cheese, yoghurt and bread in the beautiful Akinon Spa and Wellness Resort. A perfect place to take time to relax in the tranquil and peaceful surroundings while learning about Indian cooking during the 6-day retreat with Spice Sister Veena Josh.
COOKING CLASSES
Immerse yourself in an exciting course of Indian Masterclasses for a comprehensive curry culinary tour of Indian cookery, covering a broad range of cooking techniques and skills.
The course is designed for passionate curry lovers, novices and cooks keen to learn and perfect their cooking expertise. The emphasis is on simplicity, to demystify and showcase clean, Indian foods with a combination of demonstrations and practical hands-on sessions. Our Indian cookery classes offer something for everyone – participants will leave with a repertoire covering all aspects of creating delicious feasts at home.
PRICE
Price per person €849
Early bird special €749
Early bird deadline 28.2 (Spring) – 28.6 (Fall)
Single room surcharge €100
___________________________________________________________________
INCLUDED
• 3 cooking classes and course materials with Veena Josh
• 5 nights accommodation in shared accommodation
• 30-minute spa treatment
• Welcome tapas dinner
• Goodbye BBQ dinner
• Daily breakfast
NOT INCLUDED
• Airfare to Alicante Airport
• Transport to and from Alicante airport
• Travel insurance (recommended)
• Single use of room – a surcharge of €100
___________________________________________________________________
BOOK TODAY!
Intrigued? Do you have any questions? Interested in booking?
Contact us today at
EMAIL keepcalm@curryoncooking.com